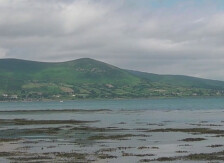 August 5th - 11th 2013
Seán Cotter An tAm Marfach ina Mairimid
Cathal Ó Searcaigh An tAm Marfach ina Mairimid
An tAm Marfach ina Mairimid
by Cathal Ó Searcaigh
Do Ghabriel Rosenstock 
Inné is an spéir chomh soiléir
le súil lánléargais an Bhúda
chonaic mé colmán bán ag triall tharam.
A sciathán geal aingil
ag tuar dóchais, a deirim liom féin,
as an duibheagán seo ina mairim.
Ach ní raibh na focail as mo bhéal
nuair a chuala mé an t-urchar. Fágadh an féar
dearg le fuil an éin ghlé.
Inniu níl spléachadh dá dtugaim ar an spéir
nach léir domh mo cholmán bán, a choirpín
mín marbh ag titim ó ghorm go talamh.
Inniu agus ní ag maíomh atá mé
tá a bhfuil ionam de ghrá Dé
báite i bhfuil dearg an éin sin.
Ní thig liom m'aghaidh a thabhairt níos mó
ar spéir atá ag cur fola
ar spéir atá ag cur fola.
from An tAm Marfach ina Mairimid
By kind permission of the author and Arlen House
In A Grave Time
The sky today as translucent
as the Buddha's omniscient eye:
a white dove flew by.
Its bright angelic wings spelled out
hope – could it be –
hope in this infirmity?
The words were not out of my mouth
when a shot was fired. The sky
an ocean of blood. No lie.
I cannot look up to the heavens
without seeing on the ground
the dove that fell to earth without a sound.
Today, strange as it is to claim,
all the love I have for God
is drowned in that bird's blood.
How can I look any more
at a sky that is gore,
nothing but gore.
Translated into English by Gabriel Rosenstock