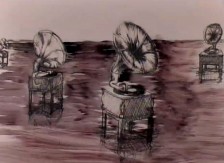 March 11th - 17th 2013
Aideen Barry Beyond the Flock
Máire Mhac an tSaoi A fhir dar fhulaingeas
A fhir dar fhulaingeas
by Máire Mhac an tSaoi
A fhir dar fhulaingeas grá fé rún,
Feasta fógraím an clabhsúr:
Dóthanach den damhsa táim,
Leor mo bhabhta mar bhantráill.
Tuig gur toil liom éirí as,
Comhraím eadrainn an costas:
'Fhaid atáim gan codladh oíche
Daorphráinn orchra mh'osnaíle.
Goin mo chroí, gad mo gháire,
Cuimhnigh, a mhic mhínáire,
An phian, an phláigh, a chráigh mé,
Mo dhíol gan ádh gan áille.
Conas a d'agróinnse ort
Claochló gréine ach t'amharc,
Duí gach lae fé scailp dhaoirse –
Malairt bhaoth an bhréagshaoirse!
Cruaidh an cás mo bheith let ais,
Measa arís bheith it éagmais;
Margadh bocht ó thaobh ar bith
Mo chaidreamh ortsa, a óigfhir.
from An paróiste míorúilteach/The miraculous parish ( Rogha
 dánta/Selected poems), edited by Louis de Paor. The O'Brien Press/Cló iar-Chonnacht
By kind permission of the author and Cló Iar-Chonnacht
Man for whom I endured
Man, for whom I suffered love
In secret, I now call a halt.
I'll no longer dance in step.
Far too long I've been enthralled.
Know that I desire surcease,
Reckon up what love has cost
In racking sighs, in blighted nights
When every hope of sleep is lost.
Harrowed heart, strangled laughter;
Though you're dead to shame, I charge you
With my luckless graceless plight
And pain that plagues me sorely.
Yet, can I blame you that the sun
Darkens when you are in sight?
Until I'm free each day is dark –
False freedom to swap day for night!
Cruel fate, if by your side.
Crueller still, if set apart.
A bad bargain either way
To love you or to love you not.
Translated into English by Biddy Jenkinson