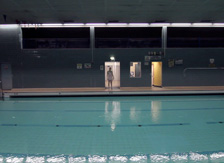 August 19th - 25th 2013
Kevin Gaffney & Sally-Anne Kelly The Moonless Ocean
Dairena Ní Chinnéide Suantraí na Meánmhara
Suantraí na Meánmhara
by Dairena Ní Chinnéide
Chuaigh an Trodaí fén uisce
is bhí pátrúin a saoil san uisce glas
comharthaí ón bhfarraige eachtrannach
ag cur comhairle uirthi fanacht fó thoinn.
d'oscail domhan mealltach
is bhí sí ar a suaimhneas
i bhfad ó chlann is leannáin
domhan draíochta an Trodaí fé uisce
fhliuch sí, is fhliuch sí í féin
d'fhonn fothain a fháil ón teas
shnámh sí lena súile oscailte
is shnámhfadh sí go dtí an Ghréig
chun éalú óna laincisí saolta
léirphictiúir ghrinneall na Meánmhara
is macalla na dtonn in suantraí aici.
from An Trodaí  & Dánta Eile / The Warrior & Other Poems
By kind permission of the author and Cló Iar-Chonnacht
Mediterranean Lullaby
The Warrior went under water
and the patterns of her life lay in the green
signs from a foreign ocean
advising her to stay under the waves
a magically enticing world opened
and she was at peace
far from her family and her lover
the magical Warrior world under the waves
she wet and wet herself
to take shelter from the heat
she swam with her eyes open
and she would swim to Greece
to escape her mortal ties
images from the bottom of the Mediterranean
and echoes of the waves her lullaby.
Translated into English by Dairena Ní Chinnéide