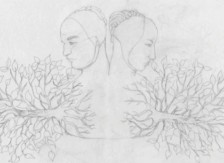 April 22nd - 28th 2013
Alice Maher Flora
Nuala Ní Dhomhnaill Venio Ex Oriente
Venio Ex Oriente
by Nuala Ní Dhomhnaill
Tugaim liom spíosraí an Oirthir
is rúin na mbasár
is cúmhraín na hAráibe
ná gealfaidh do láimhín bán.
Tá henna i m'chuid ghruaige
is péarlaí ar mo bhráid
is tá cróca meala na bhfothach
faoi cheilt i m'imleacán.
Ach tá mus eile ar mo cholainnse,
boladh na meala ó Imleacht Shlat
go mbíonn blas mísmín is móna uirthi
is gur dorcha a dath.
From Selected Poems, published by New Island Books, 2004
By kind permission of the author.
Eastern spices I bring with me,
and from bazaars, a mystery:
and perfumes from Arabic land
would not make bright your small white hand.
My hair is henna-brown
and pearls from my neck hang down
and my navel here conceals
vials of the honey of wild bees.
But my body breathes another musk
that smells of wild mint and turf:
scent of honey from an ancient hill
that has darkness in its tint.
Translated into English by Michael Hartnett