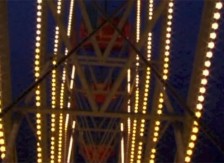 April 8th - 14th 2013
Gary Coyle Dun Laoghaire Carousel
Peter Sirr Madly Singing in the City
Madly Singing in the City
by Peter Sirr
after Po Chü-i
And often, when I have finished a new poem,
I climb to the dark roof garden
and lean on a rail over an ocean of streets.
What news I have for the sleeping citizens
and these restless ones, still shouting their tune
in the small hours. Fumes rise from the chip-shop
and I am back at the counter, waiting my turn.
Cod, haddock, plaice, whiting.
The long queue moves closer;
men in white coats paint fish with batter,
chips leap in the drying tray.
There's a table reserved for salt and vinegar
where the hot package is unswaddled,
salted, drenched, wrapped again
and borne out into the darkness.
In darkness I lean out, the new words ready,
the spires attentive. St Werburgh's, St Patrick's, Nicholas
of Myra. Nearby, the Myra Glass Company
from where we carried the glass table–top.
In a second I will sing, it will be as if
a god has leaned with me, having strolled over
from either of the two cathedrals, or from the green
and godly domes of Iveagh Buildings.
Ever since I was banished from the mountains
I have lived here in the roar of the streets.
Each year more of it enters me, I am grown
populous and tangled. The thousand ties of life
I thought I had escaped have multiplied.
I stand in the dark roof garden, my lungs swelling
with the new poem, my eyes filled with buildings
and people. I let them fill, then,
without saying a word, I go back down.
from Bring Everything
By kind permission of the author and The Gallery Press