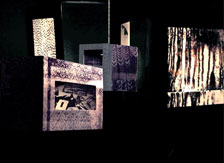 June 17th - 23rd 2013
Niamh McGuinne ShadowLight
Aifric MacAodha An Caisleán Normannach
An Caisleán Normannach
by Aifric MacAodha
Tuigeann an duine conas titim isteach
Le dlíthe, teanga agus nósanna.
Sa chaisleán istigh,
Ligeann fuinneogín a leithead.
Agatsa fadraon na tíre,
Gan radharc ort ag éinneach.
Thánac ar bhroc is tú ar shiúl,
An corp faoi rigor mortis.
Ba den chríonnacht í inniu, a chuid
Nach rachainn á thaispeáint duit.
Reproduced by kind permission of the author
The Norman Keep
We know how to fall in line
with laws, language and habits.
Within the keep the tiny
window conjures expanses:
a wide-ranging view to take in
while you stay well out of reach.
I came on a badger out walking,
convulsed in its rigor mortis.
Today it was part of the wisdom
that lingers for all who pass.
Translated into English by David Wheatley