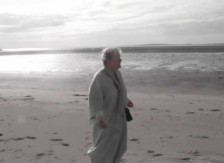 January 14th - 20th 2013
Cléa van der Grijn Niesje
Vona Groarke The Clutch Handbag
The Clutch Handbag
by Vona Groarke
Black bombazine with grosgrain binding,
a clasp of diamanté butterflies and a row
of bevelled ivory sequins threaded with slipknots.
Finesse. A lipstick of a certain red,
a bronze compact, the cachet
of an embossed cigarette case.
Emerald lining that is like glossy music
from a dance-hall band or the sheen
of sable eyes on the mink stole
whose snout rounds on the very shape
of a tear in the satin no bigger than
her incarnadine thumbnail
through which five decades
have slipped like small coins
skittering the open notes
of a foxtrot or an old-time waltz
that nobody, but nobody,
recalls.
from Spindrift
By kind permission of the author and The Gallery Press