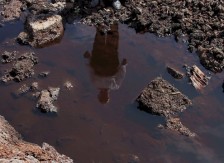 February 18th - 24th 2013
Nigel Rolfe Into the Mire
Francis Harvey Bogspeak
Bogspeak
by Francis Harvey
For centuries I have been quaking
under the weight of well-shod feet.
None of them was capable of learning
that whoever walks on me walks on water.
If they put a foot wrong they drowned
in what only the wood-kerne knew was
bottomless solid ground.
In my fluid and devious
conspiracies with land and water
I have swallowed stepping stones
the way I have swallowed dolmens and crosses.
I thrive on the liquid diet
martyrdom has prescribed
for the saint and the hunger striker
and, carnivorous too like my daughter
the sundew, I sometimes regurgitate
the corpse of some informer I reluctantly ate.
Now and then the mist lifts to reveal
the substance of my fantasies dissolving
in sunlight but only for a moment
and soon I am fantasising again.
Enter me gently and never forget
what my loneliness masks: all my dreams are wet
and I keep coming under the pressure
of alien bodies I love to hate.
Sometimes with the sun's help I crack a dry joke.
Mostly I've been going up in puffs of smoke.
Bog-man, bog-bishop, bog-job:
I have a bad name: as many
as there are different kinds of wet weather
in the taxonomy of rain.
I flow slow and run deep: the lie of the land.
In summer you can hear me ticking
over like a clucking hen sitting
on the clutch of bombs
history lays and hatred slowly hatches.
from Collected Poems
By kind permission of the author and Dedalus Press